Aspiring cardholders who want to get huge cash back and other rewards may want to apply for the MBNA Smart Cash Card.
MBNA offers its Smart Cash Credit Card that gives up to 5% cash back to their new customers upon approval. New cardholders can enjoy this perk on their fuel and grocery purchases within the first 6 months. After this period, they can still get 2% cash back on the same items every month. After spending $500 on the gas and grocery items within a promo month, the customer's earning rate will be reduced to 0.5% cashback rate until the following month.
Aside from these, they can earn 0.5% cash back on other qualified purchases.
MBNA Smart Cash Credit Card customers can get different benefits such as seven types of travel and purchase insurances which cover purchases, vehicle rentals, balance protection, and death and disability from travelling. This Mastercard-powered credit card also has safeguards like EMV chip to ensure the privacy of transactions.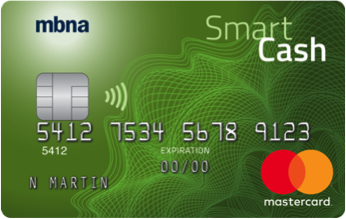 Application Process
Aspiring cardholders can apply for the MBNA Smart Cash Credit Card online. Card applicants should be over 18 years of age and Canadian citizens or permanent residents. MBNA considers applicants with a minimum credit score of 650 for this card.
For the MBNA Smart Cash Credit Card, the bank provides a credit limit of $500 or above, which will be based on the credit history and financial circumstances of the customer.
Fees and Interest Rates
MBNA Smart Cash Credit Card has a zero annual fee. However, cardholders should take note of different fees such as cash advance fee worth 1% of the amount of each transaction or $7.50, whichever is greater. This card has a standard interest rate of 19.99% for purchases, 22.99% for balance transfers and access cheques; and 24.99% for cash advances.