For people who want to get unlimited cash back from their purchases, applying for RBC Cash Back Mastercard is a great choice.
With RBC Cash Back Mastercard, customers can get 2% back on groceries while enjoying unlimited cash back on qualified items. Moreover, the card has insurance and warranty protection to give customers peace of mind on their purchases.
RBC Cash Back Mastercard Benefits
The RBC Cash Back Mastercard also has other perks aside from its rewards and cash back. One of which is a 3-cent saving for every liter of fuel when cardholders gas up in Petro-Canada. What's more, they can also earn 20% more Petro-Points from the company.
Customers can also lock their cards temporarily anytime they want. By logging in on the RBC Mobile App and choose the card they want to lock, they can keep their accounts protected whenever they misplace or lose their card.
Mastercard offers state-of-the-art protection to its cards. These are equipped with enhanced PIN and EMV chip features that would make them impossible to use by unauthorized people.
Lastly, cardholders are covered by Purchase Security and Extended Warranty Insurance that protects qualified card purchases against theft, loss, or damages for up to three months. This insurance will also double the manufacturer's original warranty for up to one additional year.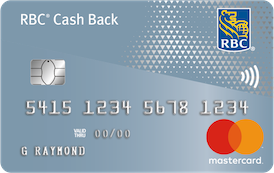 Application Process
Applicants can order the RBC Cash Back Mastercard online as long as they are a Canadian citizen and belong to the age of majority in the province or territory they are living in.
RBC can give customers a credit limit of $2,000 for this card, which can increase or decrease depending on the customer's credit history and financial standing.
Fees and Interest Rates
The RBC Cash Back Mastercard does not charge an annual fee. However, the bank collects some fees such as a cash advance fee of $3.50 for ATMs in Canada and $5 outside Canada. RBC will also charge $45 for dishonored payment and $29 if the customer's balance exceeds the credit limit. This credit card has an interest rate of 19.99% for purchases and 22.99% for cash advances.