Abigail Disney, the heiress to the multinational mass media and entertainment conglomerate Walt Disney Company, has become the latest American billionaire to support Democratic presidential candidate Elizabeth Warren's proposed wealth tax.
In an interview with CNBC's Karen Tso on Thursday, the heiress blasted those who are opposed to the proposal to safeguard their enormous fortune.
"If you have a billion dollars and (you're worried you won't) make a hundred million dollars a year just by sitting on your couch at home, truthfully you're kind of an idiot," she commented. "Money just makes money. It's one of the hardest things in the world not to let it grow."
"If it's a 2% (or) 3% tax, it will in no way inhibit, first of all, your buying power, and second of all, the growth of your buying power," Disney continued. "So I don't understand what the hesitation is around a wealth tax, because it in no way encumbers a person who is already so far past being able to spend that money that could be so much better used."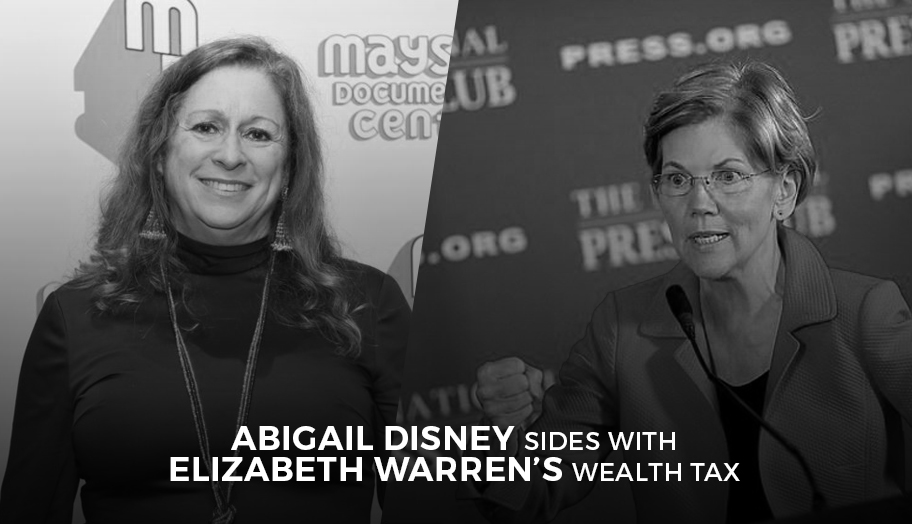 In January this year, The Washington Post first reported the news about Warren's proposed annual "wealth tax" on Americans with over $50 million in assets. Under such arrangement, people with wealth between $50 million and $1 billion will face an additional levy of 2%, while those with a net worth above $1 billion would face a 6% levy.
Among the ultra-rich who are vocal critics of the proposal include hedge fund manager Leon G Cooperman, TD Ameritrade founder Joe Ricketts, former Goldman Sachs CEO Lloyd Blankfein, and venture capitalist Peter Thiel.
Earlier this month, Cooperman described the proposal as a form of "idiocy" that tries to appeal to the public by "promising a lot of free stuff."
"I don't need Elizabeth Warren telling me that I'm a deadbeat and that billionaires are deadbeats. The vilification of billionaires makes no sense to me. The world is a substantially better place because of Bill Gates, Michael Bloomberg, David Rubenstein, Bernie Marcus, Ken Langone," Cooperman said in an interview with CNBC.