Sterling Construction Company, Inc. has modified its current credit agreement with BMO Harris Bank, its lending group. It has revealed that numerous terms of the agreement are revised.
Two of the terms include lowering the existing credit agreement borrowing interest rate by 2% points and reducing the credit agreement's future obligatory quarterly payments of $4.1 million to $12.5 million.
The changes to the facility were authorized by all 10 banks in the lending group. The revision results of the credit agreement have no major changes applied to pledges or other aspects.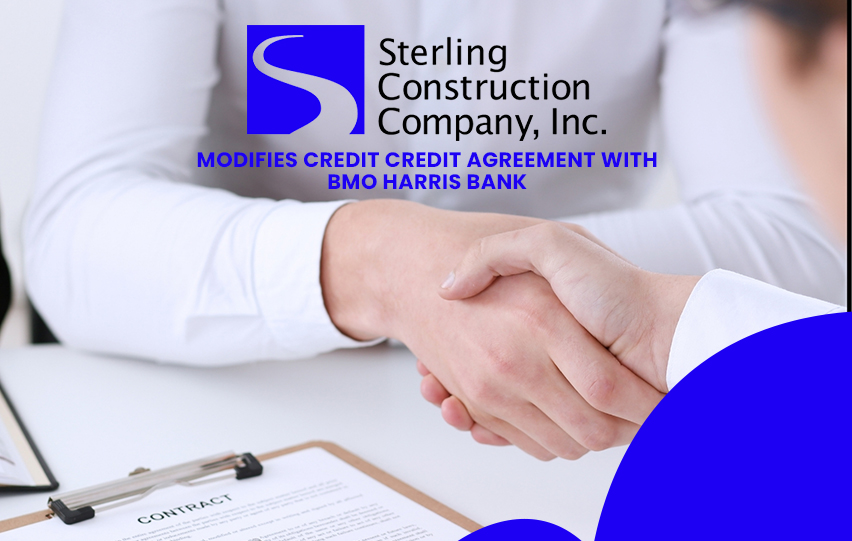 Joe Cutillo, CEO of Sterling Construction, commented that since joining the agreement in 2019, the constructive adjustments to the credit agreement are a better manifestation of the company's financial outcomes, operational execution, and considerable deleveraging.
For the remainder of 2021, the company estimates the pre-tax interest expenditure to drop by about $1.6 million quarterly due to the whole modification. It will help improve its financial position in the future.
Furthermore, the reduction in the mandatory payments per quarter will improve the capacity to invest in the company's growth.
Cutillo expressed his appreciation towards the banking group's trust in Sterling's strategic success. The bank's cooperation assists the goal to continue to expand the company's shareholder value, cash flow, and profitability.
Sterling Construction Company, Inc. conducts its operations of subsidiaries focused on Residential, Heavy Civil, and Specialty Services projects in the U.S. It is primarily in the southern areas, such as Hawaii, California, and other locations with the potentials of strategic construction.
Residential projects create single-family homes' concrete foundations. Heavy civil projects make infrastructure and rehabilitation operations such as roads, light rail, highways, bridges, ports, airfields, and drainage systems.
On the other hand, multi-family housing foundations, land development operations, parking facilities, and other business concrete are examples of Specialty Services projects.