The NatWest Credit Card is designed with frequent travellers in mind. This credit card provides cardholders with a low-interest rate of 9.9%. Besides travel, this card can also be used for everyday use at home.
The Mastercard-powered NatWest Credit Card also features no foreign transaction fees and no balance transfer fees, making it an affordable everyday card that helps users save. For balance transfers, amounts up to 95% of the available credit can be transferred, with a minimum value of £100.
Other perks that come with this card include instalment plans for cardholders, allowing them to spread the cost of their purchases. With this, comes 56 days interest-free credit on purchases. However, to avail this offer, cardholders must pay their balances in full and on time.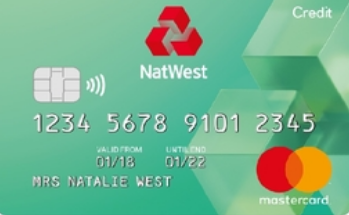 With its chip and pin technology, cardholders can use The Natwest Credit Card to make contactless payments for items that are £30 or less. Apple Pay and Google Pay can also be used to make contactless payments.
To help cardholders manage their expenses and stay on top of their finances, Natwest provides mobile banking facilities and a mobile application which are ready for use 24/7. This NatWest Credit Card provides convenience and accessibility with these useful features.
Eligibility and Application
Individuals who are interested in applying for a NatWest Credit Card can do so by filling out the bank's online application form. Applicants may also check their eligibility via the eligibility checker found on site.
The eligibility requirements for this card include being aged 18 or older, earning at least £10,000 per year, and having permanent residence in the United Kingdom.
Qualified and approved applicants will be given a minimum credit limit of £300. Individuals who satisfy the bank's requirements and who have good credit standing might be given a higher credit limit.
Fees and Charges
Interested parties who intend to apply are asked to consider the charges that come with a NatWest Credit Card.
While this card offers both low fees and a low-interest rate of 9.9% APR, there is a cash advance fee of 3% if you need to withdraw emergency cash. Default charges include a late payment fee of £12 and an over-limit fee of £12.