Customers of MBNA looking for card options will be glad to know that the bank's Purchase Credit Card offers a long 0% promotional rate. The bank gives new customers various promotional offers as a welcome offer. Most banks require customers to use up their promos within a specific period. Meanwhile, MBNA allows cardholders to spread the promos to cover costs for a long while.
The bank also allows customers to request transfers from one credit or store cards to their Purchase Credit Card. It also gives users the opportunity for money transfers to banks or building society accounts. Cardholders will be able to manage their accounts online and using the bank's mobile application.
However, current and interested customers are encouraged to keep in mind the costs of owning this option. Fees and charges may apply include interests, annual, late payment, and cash advance fees.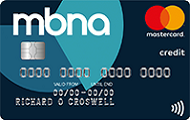 Prospective clients of the MBNA Purchase Credit Card can apply using the bank's Clever Check service. This allows customers to find available MBNA cards and compare them when one another. The service also tells customers whether or not they are eligible for the card.
Qualifying requirements include being a resident of the United Kingdom, being 18 years old or over, and having a regular annual income. Applicants must be able to present a UK address which they have been living in for a minimum of three years. Contact information such as an email address and phone number are also required.
However, not everyone who qualifies for the above criteria will be able to get their Purchase Credit Card. Candidates should not have any County Court Judgements, Individual Voluntary Agreements or bankruptcies. Students, unemployed individuals and those who have been rejected by the bank within the past 30 days are not eligible.
The bank takes into account credit history, financial background and affordability. Nevertheless, MBNA ensures that applicants are given a fair process by adhering to Standards of Lending Practice implemented by the Lending Standards Board. It also ensures that the information provided by the clients are safe and secure.