Clients of the 13th largest retail bank in the United States can avail of 1.8% cash backs with every purchase made using the Cash Back Plus World Mastercard. This offer gives an unlimited chance for cash backs for every item purchased by the cardholder. The card does not have categories and it also does not require enrolments to avail cash backs.
According to Citizens Bank's cash back reward calculator, a $2,000 monthly spend will result in an annual cash back amount of $432. However, clients are reminded that this tool is for estimation only and that the actual cash backs will amount to 1.8%.
Other features customers can enjoy including money-saving policies, security and benefits.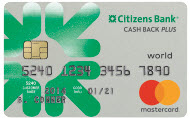 Current and prospective clients who are interested in applying for the Cash Back Plus World Mastercard can accomplish the online application which can be found on the bank's website. During the application process, the bank will gather personal info such as full legal name, date of birth, address and contact details.
Candidates will also need to provide details about their monthly housing payment and other financial and credit information. They are also advised to have a copy of their latest bank statements, pay slips and credit evaluation on hand. The institution may also require proofs of identity, residence and employment.
However, cardholders are reminded that they are responsible for paying fees and charges as stipulated in the card's policies. Customers are liable to pay an annual percentage rate (APR) of 16.99%, 20.99% or 24.99% for purchases and 24.49% for cash advances.
Citizens Bank also offers an introductory rate of 0% for balance transfers for the first 15 billings after card issuance. However, the APR for balance transfers will be 16.99%, 20.99% or 24.99% after the promotional period. The APRs for purchases and balance transfers will be determined depending on the customer's credit background.
The bank does not charge application nor annual fees, but it does implement a late payment penalty fee that can reach up to $38.