Following the acquisition of a banking agent license in Egypt, Dopay aims to introduce a high-performance platform for virtual banking are on schedule. The fintech company's banking agent license has been granted by Arab Banking Corporation (ABC) Egypt, as part of its objective of promoting financial inclusion.
Dopay and Bank ABC Egypt have formed a collaboration to develop and execute a system that has been dubbed "a gamechanger for Egypt in terms of accessibility, speed, and convenience of payments."
Every Dopay account comes with a prepaid debit card that allows the user to access his money at any time. Enrolled organizations, on the other hand, benefit from payroll that is protected and cashless.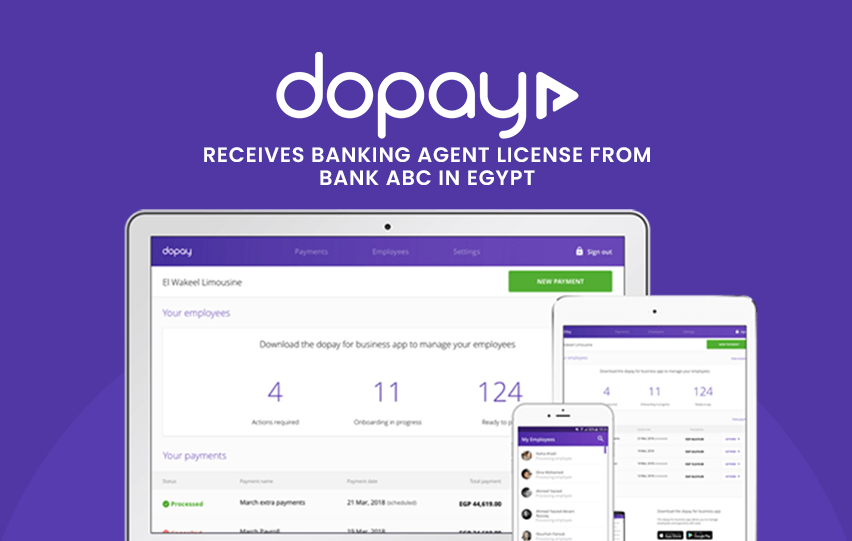 Through Dopay, businesses can create bank accounts for their employees and even other dependents immediately and give real-time payments, as long as they meet the Bank's guidelines.
At the moment, out of the population of Egyptians, 67% are not enrolled in a bank account, and 94% have no credit access.
Dopay also claims to have broad development goals focused on MENA, based on its existing and expanding activities in the country. FMO, a Dutch bank, is among its investors, including the NN Group, Force over Mass Capital, and Techstars Ventures.
Frans van Eersel, Founder and CEO of Dopay, said that he is happy that the Central Bank of Egypt has acknowledged the reliability and effectiveness of their platform and service after a thorough examination.
He added that it owes Dopay's team of developers for its success, and he appreciates Bank ABC Egypt's assistance. Achieving this license is an important step for the company's path toward being Egypt's top virtual banking tool.
Obtaining the license is also a vital part of establishing the platform as the starting point for the implementation of even more additional services in the future.