Kotak Mahindra Bank is providing prospective cardholders with the chance to earn 3x the rewards points with their Urbane Gold Credit Card. Under this credit card, new users can get 2,000 bonus rewards points as part of the bank's welcome offer so long as the card is used or swiped for the first time.
New customers who wish to avail this credit card will be given three times the reward points each time they spent Rs. 100 on their credit card. 1,000 reward points are equivalent to Rs. 75. However, users are reminded that a minimum of 1,000 is required prior to redemption.
Under this offering, the bank grants free PVR tickets or 10,000 reward points for individuals who will spend Rs. 1,00,000 within a year. Other redemption options include credit towards the next billing cycle, airline tickets, movie tickets, and branded merchandise. Interested applicants are reminded that cardholders can only claim their points within 3 months after the period end.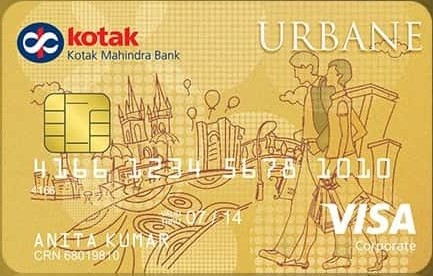 Aspiring cardholders can apply for the Kotak Mahindra Bank Urbane Gold Credit Card online. Primary cardholders should be between the ages of 21 to 65 years old to be eligible, while supplementary cardholders should be 18 years old and above. Applicant's income must be Rs. 3 lacs and above per year. However, while users should be a resident of India, the card is only available to select locations within the country.
For the Urbane Gold Credit Card, Kotak Mahindra Bank provides an Rs. 1 Lac credit limit for its users. This credit limit is based on the individual financial circumstances and personal background of the applicant.
There are no joining fees for this card. However, there is an annual fee of Rs. 199 which can be waived upon minimum retail spends of Rs. 15,000 each year. Likewise, interest charges amount to 3.50% per month or an annual rate of 42%. Late payments will also incur a minimum fee or Rs. 100 to Rs. 700, while over limit charges will come up to Rs. 500.