Michigan-based May Mobility has secured a $50 million commitment in a Series B funding round led by Toyota Motor Corp., along with the participation of SPARX Group, Millennium Technology Value Partners, Cyrus Capital Partners, BMW iVentures, and Toyota AI Ventures.
The round, which brought the company's total raised to $84 million since its founding in 2017, will be used to fund strategic hires across the company's engineering and operations divisions, as well as support its expansion plans.
"We are extremely excited to partner with Toyota and our other investors in this next phase of growth for our company," May Mobility President and CEO Edwin Olson said in a statement. "This round will help us accelerate our path to executing our vision, leveraging our best-in-class software stack and continuing to tap into the $28 billion U.S. first and last-mile transportation market."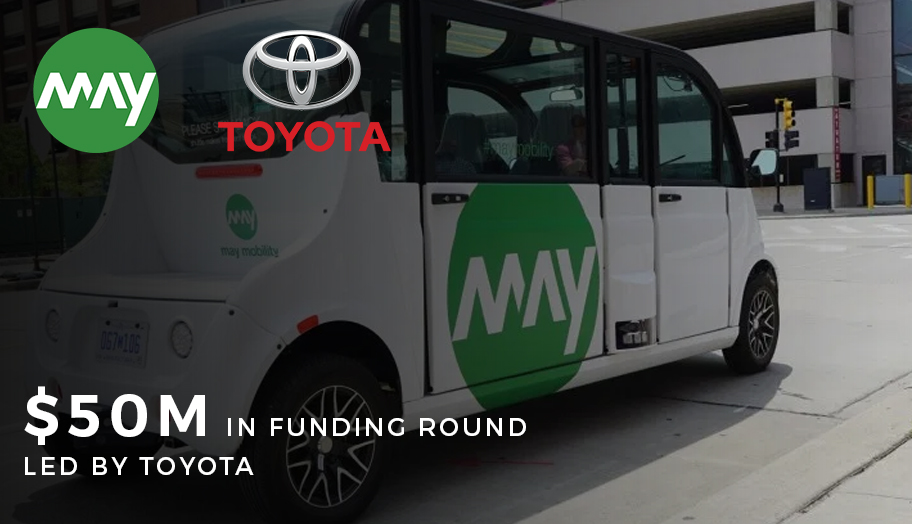 According to the release, Toyota Motor Corp. has stood as the largest investor in the Series B round. In addition to the investment, the Japanese automotive manufacturer has also selected May Mobility as one of its partners in the autonomous TaaS segment for future open mobility platforms.
"May Mobility already has a track record of commercializing autonomous driving shuttles in the U.S., and we see this as an exciting opportunity to collaborate with a seasoned partner in this area," Keiji Yamamoto, Toyota operating officer and president of the company's in-house connected services, said in a statement.
Founded in 2017, May Mobility operates as an autonomous Transportation-as-a-Service (TaaS) provider based in Michigan. Its current fleet of electric vehicles, which consists of 25 autonomous low-speed shuttles, has already provided more than 170,000 revenue-generating rides across Detroit, Grand Rapids, and Providence, as well as Rhode Island.
The involvement of Toyota in the firm's latest funding round is expected to bring the startup's autonomous vehicle technology with the new Toyota e-Palette platform that was introduced last year.