Wells Fargo, the fourth largest bank in the United States, offers consumers the chance to get $200 cash rewards and bonuses by signing up with the company's Cash Wise Visa Card.
Customers who are interested in gaining access to this exclusive offering may apply for the Wells Fargo Cash Visa Card. Under this credit card, new cardholders will be given $200 in cash rewards bonus. However, to avail this offer, users will have to make $1,000 in purchases within 3 months of opening their account.
Likewise, cardholders are entitled to cash rewards when using this credit card. Everyday purchases will garner 1.5% cash rewards, while purchases made on qualified mobile wallets will garner 1.8% on cash rewards. These points can be redeemed through cash, be credited into users' mortgage principal balance, and many more.
In addition to the cash rewards bonus, cardholders will also be given an introductory period of 0% APR for 12 months. However, after this introductory period, users will be given an APR ranging from 16.24% to 28.24%. These rates will be applicable for both purchases and balance transfers.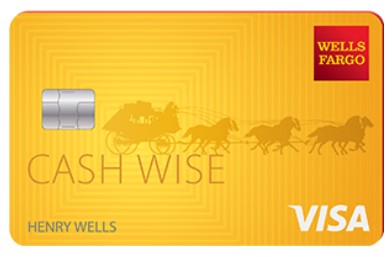 Application for the Wells Fargo Cash Wise Visa Card can be done by filling out an online application form or by going to a nearby branch. To fulfil eligibility purposes, applicants should be over the age of 18 and must be a permanent resident or citizen in the United States.
Documents that will be required from interested applicants include their Social Security Number, proof of billing address, valid ID, and employment and salary information. Users whose application is approved will be given a credit limit starting from $500.
While this credit card has no annual fee, there is an APR ranging from 16.24% to 28.24%. Interested applicants would do well to take note of these fees prior to their application.